Welcome to BASICS Scotland Podcasts - Conversations with a wide range Pre-hospital Emergency Care experts talking about medical topics that relevant to BASICS Scotland Responders and anyone interested in immediate care. Our podcasts are released weekly make sure to subscribe to listen to our latest releases. Do get in touch with your feedback, questions & ideas for future podcasts. More info here: https://basics-scotland.org.uk
Episodes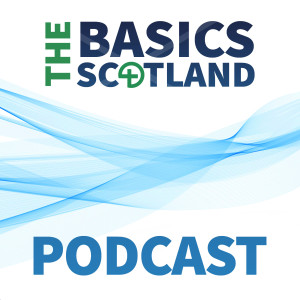 Wednesday Apr 21, 2021
Wednesday Apr 21, 2021
Joel Symonds talks us through humour in the prehospital care arena, when it is appropriate to use and when humour is not appropriate but perhaps most poignantly why it is important and its use in emotionally protecting responders and its role in mental resilience.
Top 3 Points from this podcast:
Reflect on and acknowledge that the humour that we use is a really powerful tool and it keeps us together as a tribe, keeps us safe and is a really strong protective factor and we should be careful about being so embarrassed about it that we don't allow it to come to the fore.
Think about where and who the audience is when using this type of humour and make sure it is in a safe environment where the audience and environment are appropriate where it can't be interpreted as being cruel or derogatory or offensive and with people who know you well enough that they know your intentions.
If a colleague cracks a joke about a job that sounds pretty extreme or if they say something that you absolutely would not want to hear in the wrong arena, rather than thinking how unprofessional this is, or trying to distance yourself from it, instead find a quiet moment just to catch up with them and check that they are ok and use it as a channel to open conversations.
About Joel

Joel Symonds is an Advanced Practitioner in Pre-hospital Critical Care from Edinburgh.  On leaving school he worked as a nanny, a pyrotechnician, a children's actor and a civil servant.  He joined the Ambulance Service in 2005 and was promptly told by a burned-out colleague – "The problem with joining the ambulance service is once you've become a paramedic there's nowhere else to go".  Choosing to ignore this nihilism, Joel has spent his career exploring the opportunities available to staff with pre-hospital management skills.  Since then, he has worked in international motor racing, desert search and rescue, hostile environment industrial health care, governance consultancy, education and research. He is regularly asked where he'll be in five years' time: he has no idea, but can't wait to find out.
Joel has a special interest in human factors, interactions and experience within emergency care, believing that everything we do ultimately hinges on the patients, care providers and bystanders involved.  Joel lives in Edinburgh with his family, plays geeky board games and emerged from the 2020 pandemic as a runner and baker.  He'll probably have found something different next week.