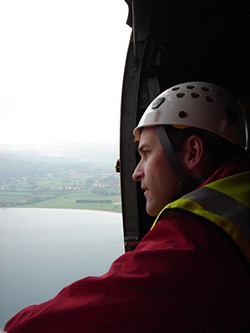 Dr Paddy Morgan talks us through what happens when your body meets cold water, what to do, not only as a casualty but also if you are called as a responder to deal with a suspected drowning event. 
Top 3 Points from this podcast:
Oxygen, Oxygen, Oxygen, Oxygen

!!

 

If you find yourself in the water – FLOAT! Teach this to your nearest and dearest as a crucial survival technique.

 Approach the scene as if it were an RTC and follow the simple algorithms of the safety 

CAcBCDE

 approach and remember Oxygen

!!
Resources related to this podcast:
About Paddy

Paddy is a Consultant Anaesthetist and Trauma Team Leader based in Bristol (UK), and Consultant with Emergency Medical Retrieval and Transfer Service (EMRTS) Cymru, and Great Western Air Ambulance.
Prior to his medical studies, Paddy worked summer seasons as a surf lifeguard and went onto to instruct and mentor at a national level, retaining an active role in flood/swift water rescue. He is the honorary medical advisor to Surf Lifesaving GB, member of the UK governments Search and Rescue (UKSAR) Advisory Medical Group, previously sat on the Royal National Lifeboat Institute's Medical & Survival Committee, is a member of the International Life Saving Federation's (ILS) medical advisory committee, an Invited Honorary Member of the International Drowning Research Alliance (IDRA), and is Medical Director for HM Coastguard.
As a postgraduate student and independent medical officer for the Extreme Environment Laboratory at the University of Portsmouth, his areas of research interest include drowning, the cardio-respiratory responses to immersion and submersion in cold-water, hypothermia and the response of the human body in extreme environments. He has lectured internationally and has several publications related to these subjects.